What Is Affiliate Marketing?
What Is Affiliate Marketing?
What Is Affiliate Marketing?
Affiliate marketing is a marketing arrangement by which an online retailer pays a commission to an external website for traffic or sales generated from its referrals.
In other words, the affiliate marketer, (you) offer products, software, services, or courses of a company or an individual by supplying a URL (affiliate link) for the prospect or customer to click on.
When that customer clicks on the link, it will take them to the product being offered, and if they purchase that product, the company will pay the affiliate marketer a commission.
Answering what is affiliate marketing in the simplest of terms, affiliate marketing is… you sell something for someone and they pay you a commission.
In this article, I'll give you a full overview of what's involved in affiliate marketing. I'll cover different aspects of affiliate marketing so you'll get a better idea of everything needed to have an affiliate marketing business that is successful.
The Business Triangle of Affiliate Marketing
There are three parties involved in your affiliate business.
The Advertiser
The Publisher
The Consumer
Without all three you won't have an affiliate business. Each one has an important role in the cycle ending with you getting paid a commission.
The Advertiser
This is the party that actually has the product or service you are promoting.
You'll want to build a relationship with them, (usually their affiliate manager) and they'll work with you and supply banners and sometimes email swipes for you to use.
It is up to you to promote the product through your content, ads, videos, etc., and ultimately get paid commissions from the advertiser.
The Publisher
This is actually you. The publisher is commonly known as the affiliate marketer.
You're responsible for promoting the product or service in whatever way you feel appropriate as long as it doesn't violate any rules of your affiliate contract agreement.
Again, working closely with the advertiser is important for both parties since you both need to make money to continue the relationship.
The Consumer
And lastly, this is the person buying what you are promoting.
And for this to happen, even more, you need to build trust with the consumer. When all three work correctly, it's a win/win/win situation.
The consumer gets the product they want. The advertiser generates revenue and the publisher (affiliate) receives their commission.
Is Affiliate Marketing a Good Income Source For Retirees?
In my opinion, yes!
I say this because I am one. That's the reason I got into affiliate marketing. I lost my retirement, home, and marriage of 22 years at the age of 57. (See My Story) I started looking for some way to get myself back on track so I wouldn't be working until the day I die. (at least not manual labor) And I wanted to try and rebuild my retirement. Affiliate marketing was what I found to be my best shot at still having the retirement I had hoped to have.
As you'll see in the pros and cons of affiliate marketing later in this article, it was ideal for me in relation to retirement.
Work at my own pace, when I want, from where I want, how I want, with no boss and punching a clock. Which meant I could still have time for my grandkids, travel, or work in my pajamas and never leave the house if I wanted.
There was no income ceiling to worry about. The sky was the limit. I could make as little or as much as I wanted. It all depended on how much effort and time I was willing to invest in myself.
No physical labor is involved which is a big plus for us as we're growing older and more brittle.
I am able to meet and talk to folks face to face on Zoom from around the world which is simply amazing to me.
So, in my humble opinion, affiliate marketing is just about as perfect of an income source as there is for retirees or even those looking at retirement soon.
How Much Do Affiliate Marketers Make?
An affiliate marketer can make a wide range of affiliate income. Anywhere from as low as 1%-6% affiliate commissions from Amazon to 50%-75% from software and training courses. There are certain situations where affiliate marketers are even paid 100%.
As far as in dollar terms, it totally depends on you, the individual. How much time do you have to put into promoting the products? How much money do you have to invest if you wanted to promote through paid advertising? What are your work ethics?
There are affiliate marketers that don't make a dime and there are those that make $10,000 to $30,000 a month. I know of bloggers bringing in $80,000 a month from their affiliate marketing links alone.
It also depends on what route you take in your affiliate marketing business and your marketing efforts.
Will you build an authoritative affiliate website? Will you use email marketing as part of your affiliate marketing system? Will you have a Youtube channel, Instagram, or Tik Tok promoting your affiliate business? Successful affiliate marketing depends on the affiliate marketing strategies you use.
The bottom line is… there is no limit to what you can make if you put in the work and effort required to have affiliate marketing success.
What Should You Do First To Get Started As An Affiliate Marketer?
First, to start affiliate marketing, find a good affiliate marketing training program that will train you on the correct way to set up and go about your affiliate marketing business. And you'll also want to find good affiliate marketing programs. (more on this in a bit)
I entered the affiliate marketing industry in 2015 and did so by trying to go about it in the least expensive way. My first mistake there was looking at the learning process as an expense instead of as an investment in myself (This mistake is made endlessly by new affiliate marketers). I figured I could learn enough on Youtube to get my affiliate marketing business off the ground.
Big mistake. You can pick up tidbits of information, how-to's, and online marketing tips on Youtube and Google, but you need an affiliate marketing program to help you connect it all together and put everything in the right order.
My second mistake was I didn't really treat it as a business. If I'm honest about it, I was looking at it as more of a hobby. I dabbled. And if you dabble, you won't make it as an affiliate marketer. If anything, you'll lose money and eventually quit. So, to be a successful affiliate marketer you MUST treat it as a business. Affiliate marketing works if you take it seriously.
So, invest in yourself. To learn any other trade you go to college and pay an incredible amount. Treat this the same. You're paying to learn a trade that has the potential of making you far more than a doctor or lawyer, and you're paying way less for the education.
Where Do I Find Products To Promote?
Products for you to promote are everywhere. There are literally thousands. Here's just a tiny list of companies that have an affiliate program to give you an idea of the variety out there.
AWeber (email marketing service)
Authority Hacker (affiliate website builder training course)
Chewy (pet food/supplies)
Amazon
Walmart
Home Depot
Tractor Supply
Kingsmen Premium (beard start-up kit)
and on and on
You can go to just about any website and either at the top of the home page or at the very bottom of the website's footer, you'll find "affiliate program" or just the word "affiliate". Click on this button and it will take you to their affiliate program where you fill out a simple application to become one of their affiliate marketers.
Most affiliate programs are generally free to become an affiliate except in rare instances, usually in high-ticket training courses where you are required to purchase the course in order to become an affiliate. (with high-ticket products, the company doesn't want you to promote products without knowing them inside and out. In other words, people don't want to buy a Lamborgini from someone that drives a Ford Pinto.)
A good way to search for an affiliate program is to type in (on Google or Bing) the product you're interested in promoting followed by the word affiliate or affiliate program. ex: pet food/affiliate
When you type pet food/affiliate in Bing search, you'll get something like this;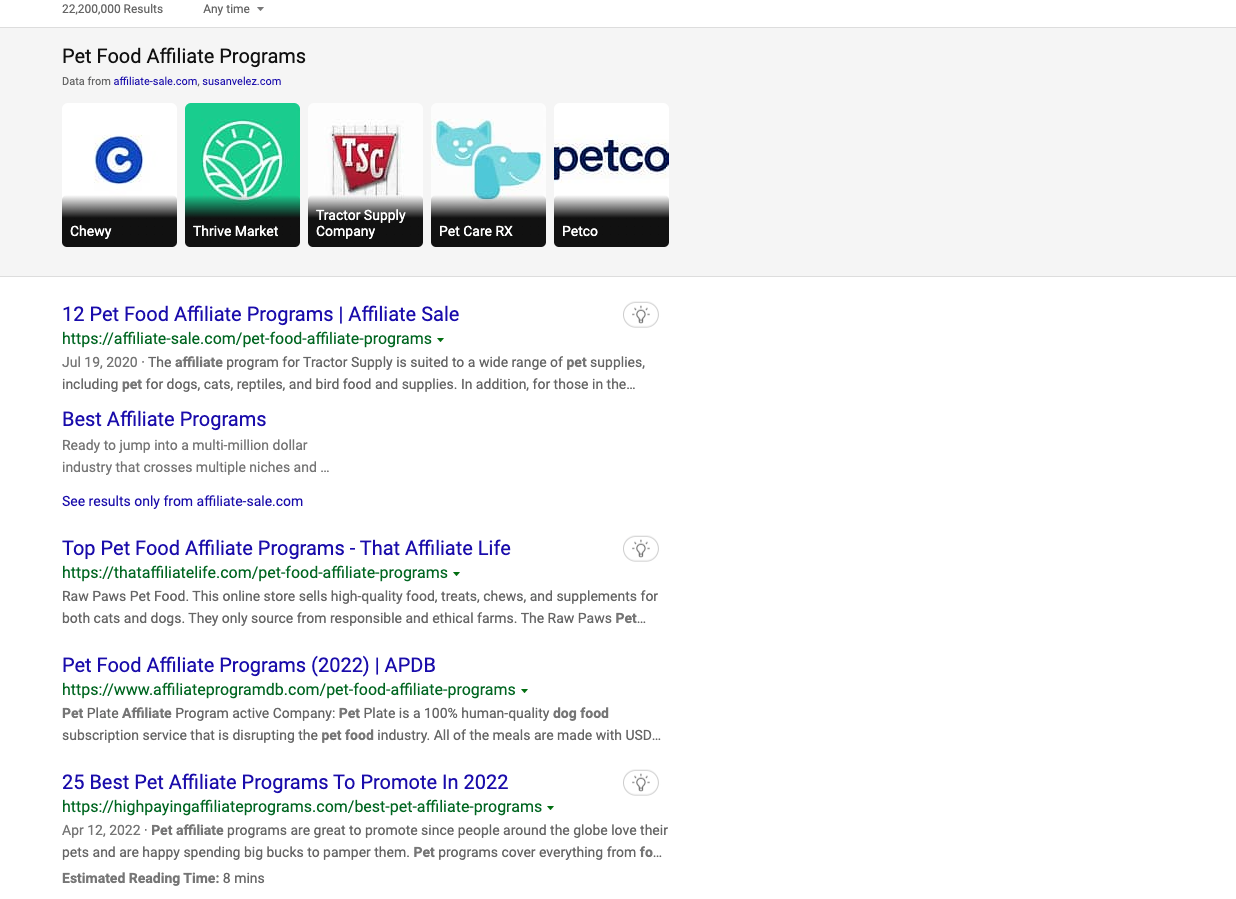 Another way of finding products to promote is by joining an affiliate network. These are online platforms that companies can join and have their goods and services promoted through the network. You can find many affiliate programs to promote and the network handles the collection of commissions for you and make sure you get paid.
What To Look For In An Affiliate Program
The savvy affiliate marketer knows what to look for when searching for the right product to promote. You want to be able to make the most commission possible for the longest period of time with the least number of clicks on your affiliate link.
There are three important points to check off.
Commission Rate
Cookie Duration
Value of the Product
Conversion Rate
Commission Rate
The commission rate the company has can make a big difference in your income online. You may promote a product on Amazon and only get a 2%-3% one-time commission from that sale. Or you may sell a training course and receive up to a 75% one-time commission.
Then, there are software/services that pay 10%-40% commission that one subscribes to monthly. You would make that commission every month as long as that person subscribes. I always make sure I have as many of these as possible.
Cookie Duration
When someone clicks on your link, a "cookie" is assigned to their browser. This way they don't have to buy your product right away for you to get credit and commission.
Different companies have different cookie durations. One may be as short as 48 hours which means once that person clicks on your link, then buys anytime within 48 hours, you still get credit.
There are others who have 10, 15, or 30-day cookies, and some up to 90 days, meaning as long as they buy anytime during that time, you get credit.
Clickfunnel actually has what they call "sticky" cookies, meaning once someone clicks on your link and checks the product out, you'll get commissions whenever they buy, even if it's a couple of years from now. (as long as they don't click on another affiliate's link after yours or they don't clear their cache)
So, the longer the cookie duration, the better your chance of receiving the commission.
Value of the Product
This pretty much explains itself. The more the product, software, or service costs, the more you will make, most of the time.
Of course, the combination of the commission rate and value of the product is the ultimate decision-maker. 2% of a $200 Amazon product won't make you as much commission as 10% of a $50 software. And if the software is a monthly subscription you would make it each month whereas the Amazon product is a one-time commission.
Conversion Rate
This is a factor often overlooked, but it's very important. The company's product conversion rates should have a huge bearing on your decision.
Do 1 out of 5 that look at their product buy? 1 out of 20? 3 out of 100?
The lower their conversion rate, the more clicks you'll have to get to make the sale and commission. And if you're running paid ads, you want the most buys for the fewest clicks.
Along with the other three factors, always be sure and consider the conversion rate of the product you're thinking about promoting.
What's The Best Affiliate Network?
There is really no "best" network in my opinion. It totally depends on the expectations and wants of affiliate marketers. Everyone is different.
There are a number of networks out there. Below is a shortlist of networks I use where you can find affiliate partners.
Finding Affiliate Program Partners In The Affiliate Network
First, you'll need to apply to the network in order to get assigned your own special affiliate link that you'll use whenever you promote products you find in the network. Let's use Clickbank as an example.
Google or type in www.clickbank.com and it will take you to the Clickbank promotional page.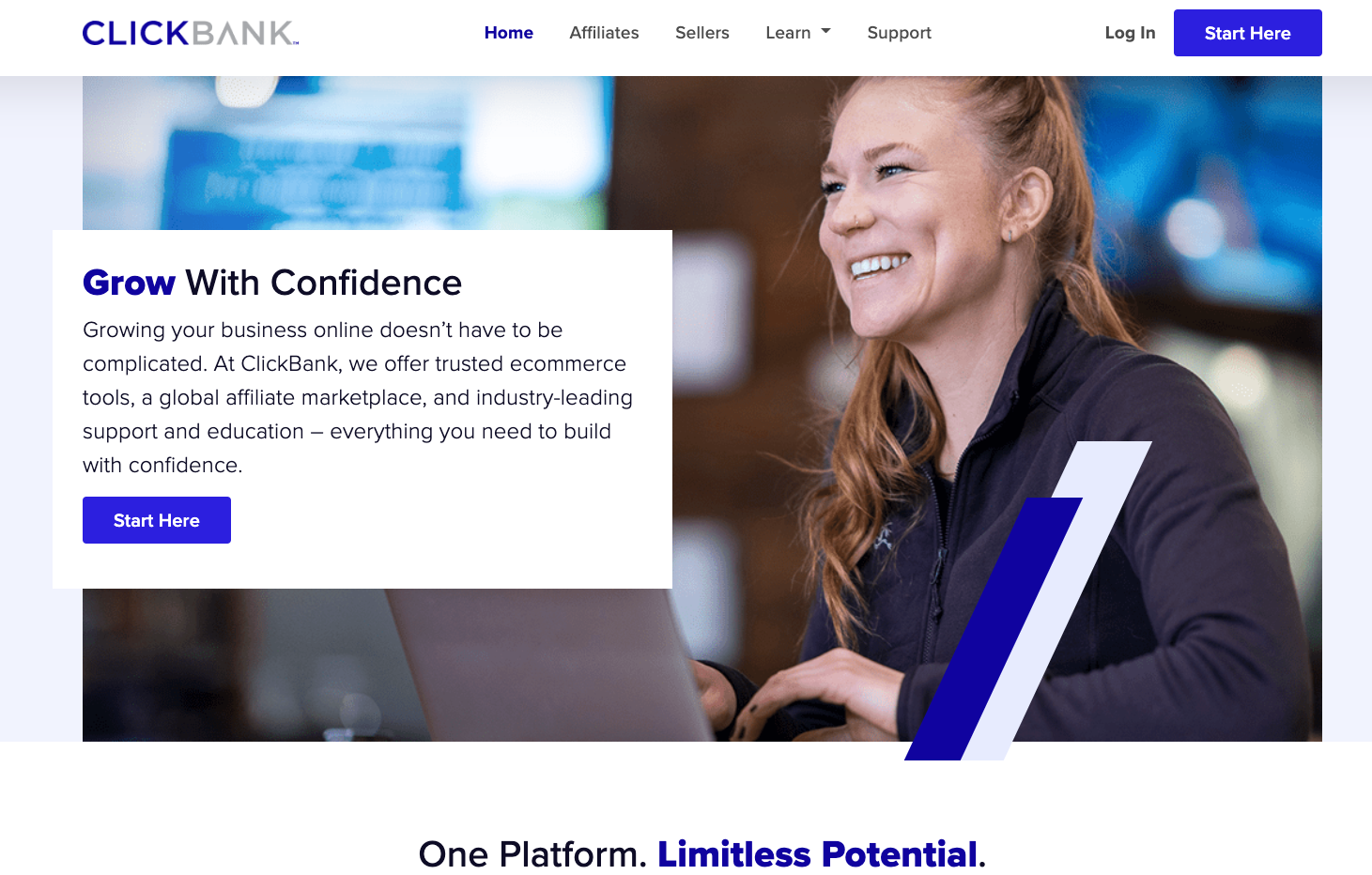 You can click on "affiliates" at the top of the page or go ahead and click on "Start Here". This will take you to a page where they will ask you a series of questions to help determine how to set up your account. (See image below)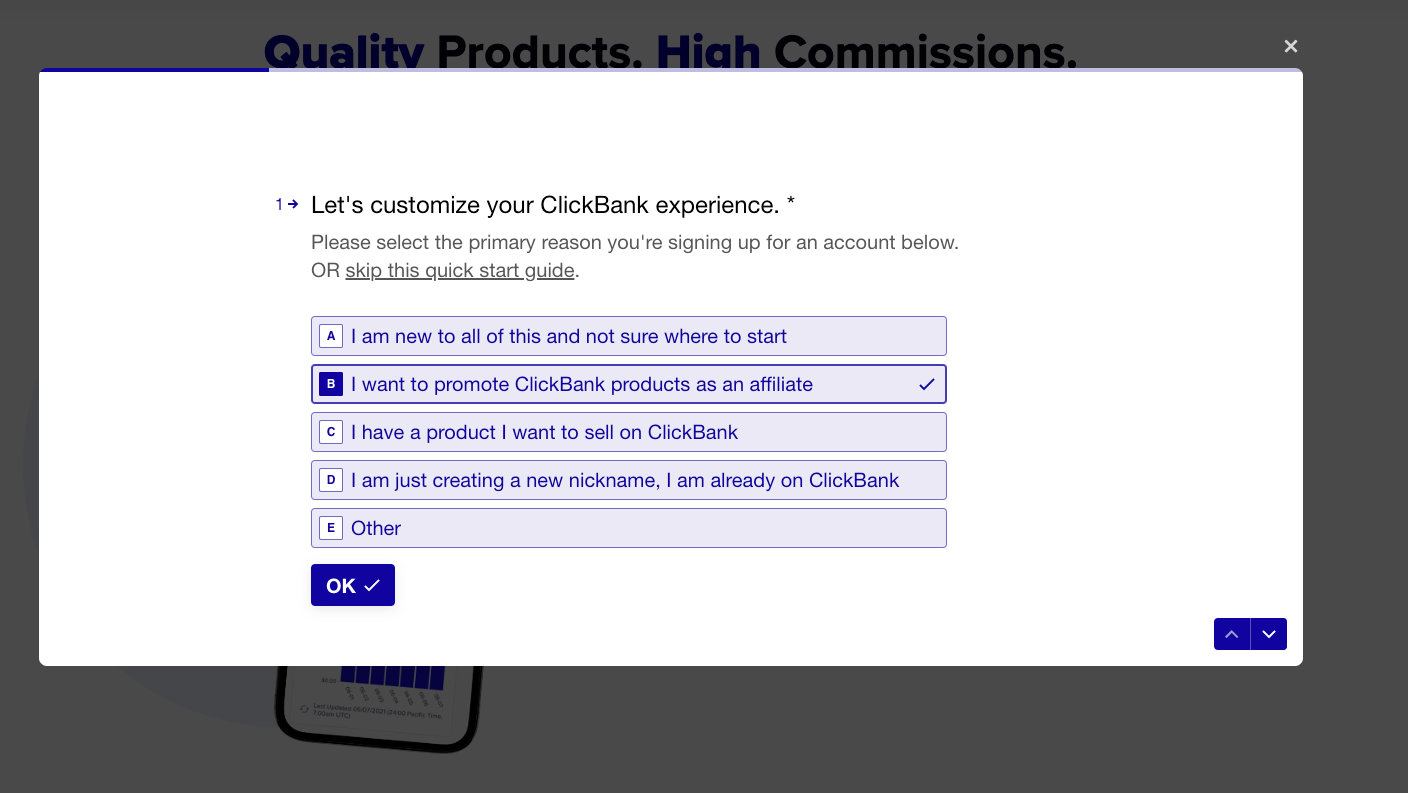 Once you've gone through the questionnaire and have your account set up, you'll go to the Clickbank home page and click on Marketplace.
Down the left side, you'll see all the categories to choose from, from arts and entertainment to home and garden, sports, or travel. Once you choose your category, a list of sub-niches will drop down for you to choose from.
For example, click on the category "Home and Garden", then click on the sub-niche "interior design". This will take you to all the products available for affiliate marketers to promote and make affiliate sales, which will bring you commissions.
Here you can see the description of each product offers, see their sales page, the average commission per sale, what percent is your commission, and any affiliate tools they offer to help you promote products.
Pick just about any network and they're set up essentially the same way. So, coming up with an affiliate product is as easy as it gets. Also, the affiliate networks have affiliate managers that are available to help their affiliate marketers whenever needed.
Passive Income With Affiliate Marketing
One thing I make sure I have in my affiliate marketing strategy is an affiliate product that has a recurring commission. This is how I build my passive income which will build upon itself over time.
The best area to find recurring commissions is in software products.
For example, if you are promoting SurferSeo and someone subscribes to that software, it costs them $59 per month on the basic subscription. Each month that they pay, you get a 25% commission. That's $14.75 every month. For as long as they are subscribed.
Now, it may not seem like much, but, if you sign up ten people, then suddenly it's $147.50 a month. And that's not counting the $ 99-a-month plan or the $ 199-a-month plan.
And then imagine having five, ten, or twenty of these types of affiliate platforms.
But, there is also higher ticket software like Clickfunnels, where subscribers pay $297 a month and I make $118 a month in commissions.
Finding this type of affiliate product is key to multiplying your affiliate income and having it build over time.
How Do Affiliate Marketers Get Paid?
Once you join an affiliate marketing program or network, you'll be assigned a special link that only you will have. It's like your social security number. It's your unique affiliate link.
Then, you promote the product in however many ways you want and supply that unique link to your prospects. When they click on the link, it will take them to the affiliate product you're offering. With this unique link, the network or company that assigned it to you, can track the prospect and know how many clicks you got, how many sales, what level of sale, etc.
And because of the unique link, they know to pay you the affiliate commissions.
They'll send you your funds through whatever payment option you have chosen when you applied to be an affiliate.
Payment Options To Receive Commissions
The affiliate marketing platform generally has several options for you to receive your payment.
Paypal
Payoneer
direct deposit
check
Western Union
Depending on the affiliate program, they may offer all of these options or only one. They all vary and always do your due diligence to make sure the affiliate program you're choosing is reliable and always pays and pays on time.
Most all platforms will also have a minimum payout of your commissions. So, if the minimum payout is $100 and you haven't made $100 the first month, it rolls over to the next month.
How Long Does It Take To Get Paid?
Generally, it takes 30 days to receive your commissions. The reason for this is that most companies offer a 30-day money-back guarantee. That is, the customer has 30 days to return the product or cancel the service if they don't like it. Once the 30 days have passed without a return, your commission is paid.
I am in a couple of programs where I get paid every two weeks. These programs don't have a money-back guarantee. And they're high-ticket coaching programs. (another reason I like high tickets). So, once you make a sale in this program, you know you're getting paid and you're getting paid in two weeks or less, depending on when you made the sale.
Different Venues of Affiliate Marketing
There are a number of ways you can go about affiliate marketing.
Everyone is different. You may like being in the public eye and want your brand to be you. So, Youtube may be a good venue for you with you in the videos.
Then, you may like being behind the scenes instead. Not really having to talk to people. So maybe blogging and a website will suit you better.
Below are different directions you can go or maybe a combination.
Website
You can do it organically by a blog post on a website like the one you are reading. Throughout the blog post, you can tell about your product or service and include a link that the reader can click on if interested.
You can also do reviews, or comparison articles, or list articles such as "The 10 Top Website Builders".
You can rely on the Google search engine and the Bing search engine to bring in your traffic and it does not cost you a penny.
Youtube
Create your own Youtube channel and make videos promoting your product. You can put your link in the description of your video for your viewers to click on if interested in more information.
Social Media
Affiliate marketing can be seen throughout social media.
Facebook, Instagram, Pinterest, Twitter, Tik Tok, and many more. You can write posts on Facebook or do stories. Using Messenger hand in hand with Facebook posts is extremely successful.
Starting a private group on Facebook is a good way to build your audience and promote your products.
You can promote through images on Instagram or Pinterest. You can also do stories on Instagram and include your link in your profile.
Short posts on Twitter including your link and hashtags attract readers that are searching for specific things.
TikTok has gotten hot recently by bringing in affiliate marketing income for lots of folks. Get your offer out there in ten seconds and put your link in your profile.
All of these examples are organic ways of doing affiliate marketing. If you have a budget, even a small one, you can start doing paid ads and scale as you are more successful.
Email Marketing
Right off the bat, you want to start building your own email list. "The gold is in the list", is a popular saying, and for a good reason.
Suppose you build your email list correctly, which is adding prospects who have purchased relevant products to yours, people who are interested in your content, folks that follow you on social media and have an interest in what you offer in your niche, etc. In that case, you should be able to make a dollar a month for every email address on your list.
If you have five hundred on your list, then you should be able to bring in $500 a month from your list. A thousand, then $1000 a month, and so on.
This is not my speculation. These are the going proven stats.
So, build your list. Then you can nurture your list with valuable content and include a link to a product you promote. They click on your link, check it out, purchase and you make a commission.
And a huge plus with email marketing is you can have it running on autopilot for months.
Affiliate Marketing With a Budget
An affiliate marketer that has a budget to play with can scale their business quickly IF they know what they're doing. Be sure and learn the process or shop these methods out to someone with experience. And remember, you get what you pay for.
Below are some different ways to pay to get traffic to your product.
An affiliate marketer can get fast results by using paid ads through Google or Bing.
These are commonly referred to as PPC ads. (Pay Per Click) You pay a certain preset amount each time your link in the ad is clicked.
The pros of using paid ads are you get immediate feedback on whether there is a good market for the product you're promoting or not. And generally, if someone clicks on your ad, mentally, they are closer to buying.
The cons of using paid ads are you are charged by the click. If you don't pay close attention to your ad and tweak it constantly, you can burn through a LOT of money FAST! So, if you're new at the game, you might want to ease into this arena very slowly. Find a course or two on using paid ads before putting your money into it.
Facebook Ads
Again, if you're new to affiliate marketing, enter this arena cautiously. As with Google and Bing ads, you can get results faster than waiting for search engine optimization to kick in for your website. But, you can lose money, also. However, not as bad and as fast as Google or Bing ads. With Facebook, you know upfront what you're spending on your ad.
The good part about Facebook ads is that you can narrow down your target audience to where your ad is shown to exactly who you want it shown to.
Youtube Ads
These days, video is very popular. Probably more so than reading, so the affiliate marketer would greatly benefit from using Youtube Ads to promote your product. Your ad will generally show at the beginning of a relevant video that someone has searched to watch. So, most of the time, these will be a bit warmer lead seeing your ad.
Instagram Ads
Another popular social media is Instagram. And you can run ads here like you do on Facebook. On Instagram, you set your budget beforehand so there are no hidden surprises and you can't be caught off guard like with Google or Bing ads.
You figure out your target audience, set your budget, and run your ad.
Pros and Cons of Affiliate Marketing
Like any business, there are good things about affiliate marketing and there are bad things. Although, for me, the good outweighs the bad by a long shot. And what may be good for one person may be bad for someone else. We're all different so you'll need to decide for yourself whether affiliate marketing is for you or not.
The Pros
You set your own hours. Work when you want. Work when it suits you best.
You can work from home. You can work from anywhere for that matter. All you need is a laptop or smartphone and an internet connection. (which leads us to the next pro)
You can travel while you work. I've run my business from the poolside at our hotel, the beach, and in many different cities across the United States. You can go visit your son/daughter and see the grandkids and still keep up with your business. Unlike the traditional business, you don't have to put everything on hold when you head out on a vacation.
You can make money while you sleep. This phrase is overused a lot in a lot of affiliate marketing ads and blogs and it makes it sound too good to be true and spammy. The truth is I've woken up many mornings to find I've made a few hundred dollars overnight, or a thousand or two. I have colleagues that do 10X, 20X 30X, or more! BUT… it doesn't happen overnight like some try to lead you to believe. It takes lots of work, failures, tweaks, start-overs, and constant learning to get to that point. How fast is up to the individual.
You don't have to ship products. The company does it for you.
You don't have to do customer support. The company also does this for you.
In the long run, it gives you much more free time to do what you love to do. Family, friends, travel, golf, hike, etc. The ultimate goal of the retiree, especially.
For the retiree that worries about having nothing to do when they retire, THIS will stop that worry in its tracks. This will keep you occupied AND have money coming in at the same time.
*No physical labor is involved. (other than wearing your fingers out from typing). Again, for the retiree, especially the older ones (like me) this is a BIG plus.
The Cons
It takes work. Learning, testing, tweaking, mindset…it's not a copy-paste, push-button magic money machine. It's a real business. Not a hobby. If you go with that frame of mind and dabble, you won't make any money and will most likely lose some and quit. Affiliate marketing works, and it's pretty simple, but it's not easy.
It takes an investment if you truly want to be a successful affiliate. However, there are different levels. I can run a good blog website for about $140 initial start-up and $50-$75 a month. And that's using good tools. You can do it cheaper if you want. Your biggest investment, truly, will be the initial training to learn your craft. A good affiliate marketing training course will run $1000-$3000, depending on what area of affiliate marketing you're wanting to go into. I really don't see this as a CON, because if you're going to learn a trade, you have to have an education. But, some folks will look at it as a con, too big of an expense, and continue to look for something that's free. Let me know how that works out for you. Bottom line: You HAVE to invest in yourself.
Extra work after getting home when you're already tired from a 9-5 job. And finding the time to do your affiliate marketing along with your day job, family, and friends.
How to Find the Best Training For Affiliate Marketing
There are many options for affiliate marketing courses out there for the affiliate marketer. And, yes, some aren't worth the paper they're printed on.
But, there are others that are worth 10X what you pay for them. This is where your biggest investment will be in the beginning. The investment in yourself. But, a thousand-dollar investment in a course can save you thousands of dollars in the long run and save you up to years in time. The more you know, (and implement) the faster you'll make commissions.
There are some that teach all aspects of affiliate marketing and then there are those that specialize in one certain area. You need to do your due diligence before putting out your hard-earned cash for training.
Ensure the training is in the area of affiliate marketing you want to learn. Find recommendations, testimonies, etc. I always find people that have gone through the training of a course I'm looking to invest in and get their opinion, one on one. Getting it straight from the horse's mouth is the best, I always say.
Make sure whoever is offering the course, is a successful affiliate. One that is currently making good and steady affiliate commissions or has a good record of doing it in the past.
Find review sites that review different courses. Again, try to be certain that the review is not just so that the one giving the review makes a commission if you purchase through his website. Granted, 98% of the review sites receive commissions, but just make sure that the review is thorough and gives the pros and the cons.
My reviews are of courses, software, services, etc that I use or have used personally and know whether they're worth the investment or not. And I'll tell you what I think, whether good or bad.
And yes, I do receive commissions. That's the business I'm in. Affiliate marketing. And that's the business you'll be in. Just remember, honesty and integrity win out in the long run.
Organic Affiliate Marketing VS Paid Affiliate Marketing
Recently, organic marketing has been extremely popular. And why not? Organic means free.
With organic marketing, you can post content on social media, a website, or Youtube and get the attention of prospects. And there are training courses that teach this particular venue of marketing. Another term for organic marketing could be content marketing.
With social media, it can be a relatively fast response to your posts which you can follow up on Messenger, but for Youtube or a website, you're depending on search engines to drive traffic to you. This is a bit slower in getting the results you want because you need to build authority before the search engines move you up to rank on the first page of search results. You also need to work on SEO to help get your content ranked higher faster.
If you have patience and a low or no budget, this is a great way to go because the cost is practically nil. (except for the course that trains you)
On the other hand, paid marketing gets you feedback and/or results immediately. Once the ad is "live" on Google, Bing, YouTube, Instagram, etc, you start getting clicks (or not getting clicks) immediately. There are no waiting months for ranking for search engines.
Within a few minutes, the game has begun. And that's pretty much what it is. A numbers game. You'll see the feedback if they're clicking on your ad, if they're buying, etc. You tweak it some. Run the ad again. Tweak it again.
But, once you have it right, and you know out of 100 hits, you'll get 30 clicks that cost you a total of $45, and out of 30 clicks you get 3 sales at $97 each which your commission is 40% ($38.80 x 3=$116.40), then it's a no-brainer. You scale and keep on scaling. Because once you know you can put $45 in and get $116.40 out, the sky is the limit. (These are just figures for examples so you get the jest of what I'm saying.)
The downside is, that you can go through some money during the tweaking phase. But in the end, it's worth it.
So, you have to decide if you want to speed your results up quite a bit and if the faster results are worth the money you need to put into it. What are you willing to trade or not trade?
In a nutshell, organic marketing is less costly but has slower results. Paid marketing is more costly, but has faster results.
In Summary
Affiliate marketing is the act of selling a product or service for a company and receiving a commission. You are the middleman—the salesman. And you get a "piece of the action" when you make a sale.
Affiliate marketing is for just about anyone. Teenagers to eighty-year-olds. Male or female. College students or retirees.
You can basically work from anywhere. Home or the pool. As long as you have a phone or laptop and an internet connection. There are no set hours except for what you determine. There is no limit to the amount you can make. However, if you don't work at it, or dabble, you won't make any money. You'll probably lose money.
It's not a get-rich-quick overnight success platform. It IS, however, a solid lucrative business, IF you put in the work and effort.
I hope this article has given you a better understanding of what is affiliate marketing and the marketing efforts involved. And that you have a better grasp of the whole overall affiliate business.